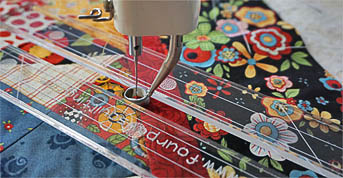 Template size: 10-1/2" x 3" (Photo from www.TheQuiltJournal.com)
The Line Tamer
As a fairly new longarm quilter, I quickly discovered that if I concentrated on guiding the machine, I lost control of the template. And if I concentrated on holding the template, the hopping foot wandered off. It occurred to me that it would be a lot easier if the hopping foot was constrained on both sides. Thus was born my first model. I was delighted with the results, and hope you will be too.
Which template do I need for my machine?
There are two sizes. One is for Gammill and other machines which have a hopping foot that's larger than 1/2". The other is for machines with a true 1/2" foot. There's also a shorter Line Tamer (7-1/2" long rather than 10-1/2") for those who prefer a smaller template. For additional information on your machine, please click: Which Line Tamer do I need?.
------- 9/16" foot: Gammill, Tin Lizzie (ruler foot)
Price: $23.95
------- 1/2" foot: A1 (after 2004), Innova, Nolting, HandiQuilter, Prodigy, Bernina
Price: $23.95
------- 1/2" foot, 7-1/2" long: A shorter Line Tamer. Good if you have limited space, or just prefer a smaller template
Price: $21.95
Shipping
Shipping is added at checkout. Currently, the charge for shipping one template in the US is $2.80. To Canada, it's $9.50, and to all other countries, it's $13.25.
International Only: I hate having to charge you folks in other countries so much, but unfortunately, that's what it costs me. As a sweetener, I'd like to offer a free pattern. You still have to pay, but at least you'll get something for it. (One pattern only please, even if you buy several items.)
Sit-Down Machines
The Line Tamer has proven quite popular with quilters using sit-down quilting machines. While I can't claim any expertise wtih these myself, I'm pleased to present a tutorial video by Patsy Thompson. Thanks Patsy...
"Snug Up" the Fit
The slot in the template is sized about 1/32" larger than the machine foot. That doesn't sound like much, but it may be more play than you'd prefer. A simple way to tighten the fit is to run a piece of Quilter's Tape along the entire inside edge. This tape is 1/4" wide masking tape, and is widely available at crafts and quilting stores.

Stitch in the Ditch, Cross Hatching
Center the line you want to stitch on. (The etched line at the end of the template can help.) For crosshatching, once you have the first line, you can use the lines etched every 1/2" on the template to position others.

Outline Quilting
Just align the seam with the edge of the slot, and you'll be stitching 1/4" away.

Using the Edge
Are you already comfortable using a straight edge? You'll find this template provides you with a secure grip other templates lack. Using the bottom leg, you can hold and move the template easily, while keeping your fingers clear of the hopping foot.
Name That Template Contest has a Winner
After receiving almost 400 possible names, I chose "The Line Tamer", suggested by Lisa Burghart of Lafayette, NJ. Thanks Lisa! Most important is that the name implies its use, and is easy to remember. Then there's the fact that it sounds like "lion tamer", perfect for a company named Four Paws Quilting.